1950's 7up Embossed Soda Cooler Converted to Cooler Grill withSink & Cash Register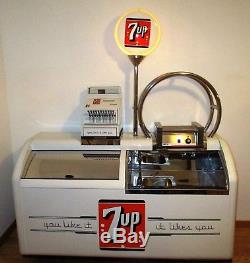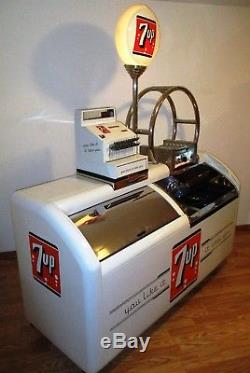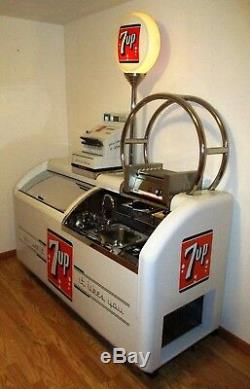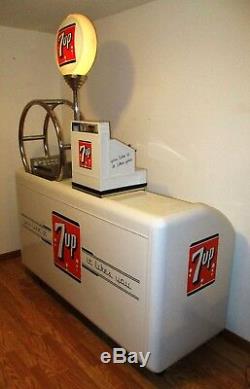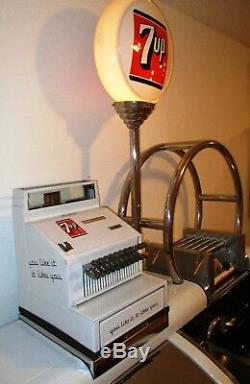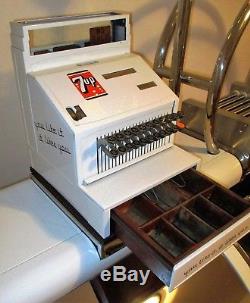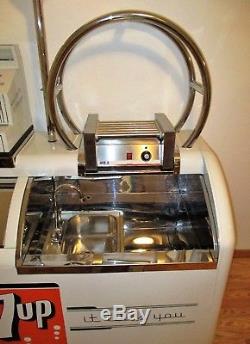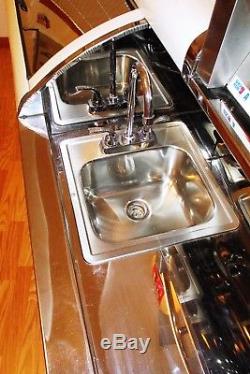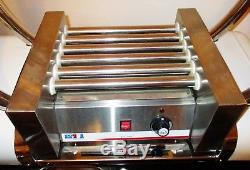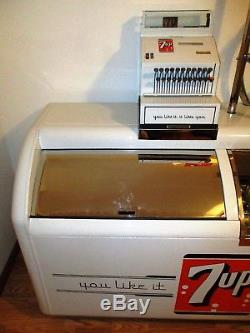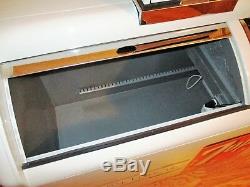 1950's 7up Embossed Soda Cooler Converted into a Cooler Grill w/Sink & Cash Register. Here is one of the most desirable soda coolers for a home gameroom! It offers classic 1950's styling with rounded top corners and a DYNAMITE paint job. Mimicking the Coca Cola cooler grill from the same era, this is an original embossed 7up cooler converted into the same cooler grill style! This isnt just any 7up cooler! This is a fully professionally restored fantasy piece done in the colors and lettering of 7up! Thats right, it has raised EMBOSSED logos on three sides saying "7up" along with other lettering and decals on other sides, all in line with 7up catch phrases and jingles. With the orange, black, and white paint scheme, along with other graphics and lettering on all sides, this is a FANTASTIC looking machine that is about as close to perfect as you could ever hope to find. In addition to the cooler on one side in the back, it also includes a sink to the right of up, a grill on the top, an original National Cash register painted in 7up motif, and a working double sided 7up light globe on the top. Put all this together and you have a FANTASTIC piece for your home. It was professionally restored and no aspect has been overlooked. It appears better than new due to the attention to detail that was performed during the restoration. This machine will be an EXCELLENT addition to any gameroom! Even just sitting idle, it is sure to draw a lot of attention to itself due to its great look!
This machine has been sitting in a corner of one of our gamerooms for the few years that we have owned it. It is the first thing that everyone notices when they come into the room, it really draws attention to itself with its GREAT look!
Unfortunately for us, we never used the machine as a cooler, we used it as a center piece attraction in our gameroom! The fan and compressor seem to be running fine but it isnt cooling. During the restoration, a window air conditioner was used as the cooling source rather than the original compressor that came with the cooler. Due to the limited available space with the addition of the sink and water hook-ups, the air conditioner was the perfect size and fit great in the space. Im guessing that it may need a re-charge of freon or something else minor may be going on because as Ive said, this machine was FULLY restored by a professional just prior to us acquiring it with no feature unaddressed.
But then we took over and let it stand idle for a few years Shame on us. So please be aware that you will need to address the lack of cooling prior to being able to use it as a fully working cooler. I dont think that anything major is wrong since it looks like it is brand new inside and out, but Im not a mechanical person by any means so I dont have the ability to resolve this. When cooling properly, the thermostat can be adjusted to match the temperature of your taste buds! Mechanically, the machine seems to be complete.
The inside was completely disassembled with all parts and pieces repainted, then reassembled. All trim pieces show new chrome plating as does the entire area around sink, the sliding cooler lid, the arched cover over the grill, and the pole for the lighted globe. The sink is an actual sink with a faucet and hot/cold water handles. Although we have never had it hooked up to a water source, the underside has all fittings in place to allow you to actually USE this sink if you wanted, if you connected a water source and drain pipe. For us, it was used as a decorator piece so we never used it, but it is built for use, if you want! The top side includes a new grill made by Benchmark USA from South Carolina, complete with owners manual. It even has a pull out drip tray on the bottom to catch the droppings from your hot dogs or brats! Again, we never used the grill but there is no reason why it shouldnt be fully operational since it is BRAND NEW! The grill in covered by a double metal tube arched in chrome, just like the original Coca Cola grills had in the 50s. Next to the arch is a vertical post, chromed, with a chromed flare-out base to support a double-sided plastic lighted globe with the 7up logos on each side. And finally, next to this post, is an original National Cash Register, complete with its manufacturers plate and an additional numbered plate showing 3347261 4223.
It, too, has been completely restored in the 7up colors, logos, and lettering and works perfectly! The bell even rings when you open the cash drawer! All of these features combine to make one OUTSTANDING display piece! The main cabinet of the machine is NEARLY PERFECT! You may be able to find a VERY small nick or chip if you REALLY look for one, but otherwise, youll describe it as perfect.
All stainless steel and chrome trim strips are in place and they, too, have been restored and buffed to near perfection. All paint is in EXCELLENT condition and REALLY shines with no fade to any colors. The machine stands 87" tall to the top of the lighted globe, 71.75" wide, and 29.75 deep.
Although I don't know the exact weight, I would guess that it is about 250-300 pounds. For transport, the lighted globe can be removed to reduce the height and the cash register can be lifted off the top to reduce the weight. My preference is to work with a company that provides door to door service which handles all of the wrapping, loading, and hauling. If youre looking for a star attraction for your gameoom, look no further. This machine will be the one that EVERYONE goes to first when they walk in the room. The color scheme is FANTASTIC with orange, white, black, and pinstriping/lettering in addition to shiny chrome surfaces and overall near perfect cosmetics.
Being a fantasy machine, youll be hard pressed to find another, especially as nice as this one! Remember, this has three EMBOSSED 7up logos! The ONLY thing youll need to do if you want to use this as a cooler is to trouble shoot the cooling feature to determine why it isnt cooling at this time. Otherwise, ALL other work has already been done for you on this machine! Get it home and put it in the most prominent location in your house because that is what it deserves.
This is your chance to get a cooler grill that offers everything that most people want in a home-use machine: 1950's rounded upper corners, a fantastic paint scheme with pinstriping and embossed logos , a working cash register, a hot dog grill, a sink, and a lighted double sided globe on the top so no one mistakes the brand of soda this is advertising! If you are partial to 7up and have your collection centered around that brand, you know that you dont have an original 1950s cooler grill available to finish out your collection. This machine is as close as you will ever come to finding the definitive 50s soda machine/cooler grill styling that includes the 7up paint theme and embossed logos. This is an excellent opportunity to add a desirable and collectible 1950's machine to your gameroom and/or collection.
And did I mention, its cosmetic condition is NEAR PERFECT? The item "1950's 7up Embossed Soda Cooler Converted to Cooler Grill withSink & Cash Register" is in sale since Wednesday, November 14, 2018. This item is in the category "Collectibles\Banks, Registers & Vending\Vending Machines\Soda". The seller is "59redvette" and is located in Woodstock, Illinois.
This item can be shipped to United States.
Modification Description: Fantasy 7up Cooler Grill
Modified Item: Yes
Original/Reproduction: Original
Country/Region of Manufacture: United States

---