Mills 45 & 47B Soda Machines For Coca-Cola Pristine Original Rare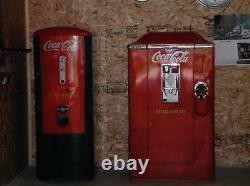 Mills 45 & 47B Soda Machines for Coca-Cola. Rare Antiques Working Condition Pristine Original. Not many still in existance.
Mills 45 & 47B Soda Machines For Coca-Cola Pristine Original Rare. Mills Novelty Company Model 47B and 45 Vendors for Coca-Cola Here are the rarest Coca-Cola machines ever made-the Mills 47B and the Mills 45. They are 5-cent nickel machines from 1941. Both vend the original 6 oz.
Mills signed an agreement with Coca-Cola in 1935 to produce a standing dry refrigeration vendor for bottles. Their first machine, the Mills 47, was an historic accomplishment being that it was the first stand-up dry automatic cooler for bottled Coca-Cola. These machines dispensed bottles with no lever manipulation, knob turning, or handle pulling. The Mills coolers, like Mills' famous slot machines, incorporated design features of unparallel excellence. The frames were handcrafted in walnut shrouded in 22-gauge sheet metal. Their compressors were factory made to do the stiffest job in commercial refrigeration possessing qualities of excessive strength, accuracy of performance, and interchangeability of parts. Mills used a distinctive red and green color combinations as directed by Coca-Cola. For sale here is the Mills 47B. It was made in 1941.
It used a dispensing mechanism consisting of a motorized conveyor having two endless chains on which were hung the bottle cradles. The patron inserted a nickel, and the machine automatically dispensed a cold bottle of Coca-Cola at waist high at the bottle chute.
The Model 47B dispenses 60 bottles of Coca-Cola for sale and 42 bottles pre-cooled in reserve. The floor space occupied is 23" x 36" and stands 62 high. The machine weighs approximately 650 pounds. It is the shortest machine in this picture and was specially ordered to be all red.
It is the most desirable of all the Model 47 series machines. The skinnier machine is the Mills model 45. It was only made in 1941. It is the most sought-after and desirable pre-war Coca-Cola machine.
The Model 45 is commonly called the "Baby Mills". It has a small capacity of only 26 bottles ready to sale and 26 bottles in pre-cool reserve.
The floor space occupied is 22 x 25 Unlike earlier conveyor type dispensing mechanisms, the Mills 45 used two gravity feed rotating drums and bottle drop cradle to dispense the bottles. The compressor was housed in the bottom of the machine easily accessed by removing the lower front panel. The curved front door is often found dented, due in part to the coin mechanism used. A coin jam required another coin to be used in the slotted coin return button to turn it to release the initial jammed coin and if no coin was available, patrons would swift kick the machine to free up the jammed coin. The model 45 floor space occupied 22' x 25", height 62.5" and weighs approximately 500 pounds. I personally restored these machines although none were repainted.
All the electrical was re-done. There are no frayed or unsafe wires in these machines. What is historically important here-both machines are complete and operational and have no missing parts. Both have original Mills Novelty Company operator and owner manuals as well as keys.
I will not separate these machines. They are available for viewing by appointment only.
These two machines were the focus for the Mills chapters in two renowned soda machine collector guides. Get images that make Supersized seem small.

---