TWO Coca Cola Coke Machine Cavalier 72 BEST IN USA! Pro Restoration VENDO 81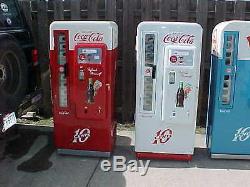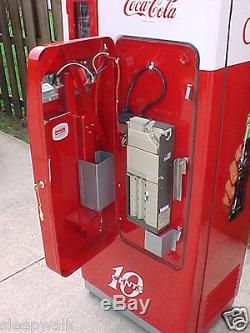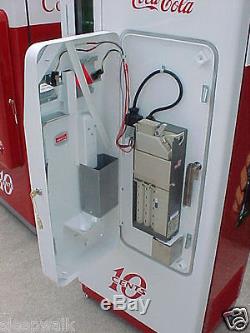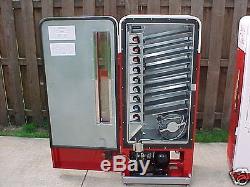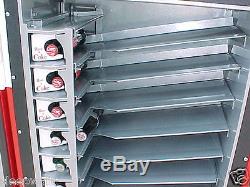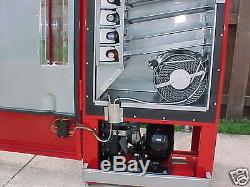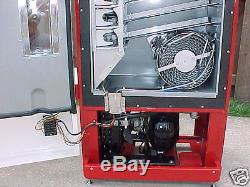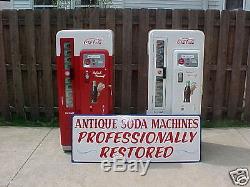 CUSTOMERS, DON'T GET TRICKED INTO WAITING A YEAR FOR AN INFERIOR MACHINE! YOU WILL NOT BE DISAPPOINTED WITH MY MACHINE!!! Once you put down a deposit they have you trapped............ MY MACHINES ARE DONE NOW!
This machine is newly restored, just finished! HAPPY DAYS ARE HERE AGAIN!!! THIS MACHINE IS NEWLY RESTORED. THIS IS LIKE GETTING THE MACHINE FOR FREE, AND IMAGINE THE MEMORIES YOU WILL CREATE FOR YOUR CHILDREN, AND GRAND-CHILDREN..... COCA COLA WAS ALWAYS CONSIDERED WHOLESOME, FAMILY FUN......
THIS IS YOUR OPPORTUNITY TO INVEST IN BOTH YOUR FAMILY AND AMERICA'S GREATEST COMPANY, DIVERSIFYING YOUR PORTFOLIO WITH AN AMERICAN ICON ANTIQUE IS A SMART WAY TO PROTECT AND ENJOY THE FRUITS OF YOUR LABOR. Up for sale are these AUTHENTIC, ORIGINAL, 1950'S VENDO 81d and VMC Pepsi 81 EMBOSSED SODA MACHINES. These MACHINES MEASURES 58"X27"X16. You pay me for the machine only. This great vintage American machine that special warm, wholesome, happy, feeling of simpler times.
These vintage machines a turning out to be great investments that continue to go up in value, despite the economy. Financial Advisors always recommend that you diversify your investments...
The Stock Market will drive you NUTS, the banks are not paying any interest..... WHY NOT ENJOY ONE OF YOUR INVESTMENTS??? Investing is a high quality Antique is a good, safe, tangible, investment. YOU'VE HEARD OF DIVERSIFYING YOUR PORTFOLIO HAVEN'T YOU?
THESE COKE MACHINES HAVE NOTORIOUSLY GONE UP IN VALUE, AND HAVE TAKEN NO BIG HITS IN VALUATION. THIS IS AN INVESTMENT THAT WON'T DRIVE YOU CRAZY WITH WORRY, INSTEAD IT WILL TAKE YOU BACK TO A MORE WHOLESOME AND FUN TIME IN AMERICAN HISTORY THAT YOU CAN ENJOY TODAY..... THIS MACHINE IS PROFESSIONALLY RESTORED INSIDE AND OUT , NOT BY A JUNIOR ACHIEVER MIS REPRESENTING A PROFESSIONAL RESTORATION. Don't get tricked by others pretending to sell professionally restored machines that are not professionally restored. THIS MACHINE WAS DISASSEMBLED DOWN TO THE BARE CABINET, AND SANDBLASTED DOWN TO THE BARE METAL. A PROFESSIONAL BODY SHOP DID THE PAINT WORK, AND THE SHINE IS BEAUTIFUL. THE ORIGINAL COLOR WAS COMPUTER MATCHED TO PERFECTION....
THE ORIGINAL INNER CABINET LINER WAS POWDERCOATED, BOTH INSIDE AND OUT AS WERE THE ORIGINAL SHELVES, AND VENDING STACK ASSEMBLY.... NO CHEAP SHORTCUT LIKE JUST HAMMERTONE PAINTING THESE PARTS... THE ORIGINAL Coin Changer COIN MECH WAS restored professionally AND WORKS Great, ACCEPTING BOTH NICKELS AND DIMES.... THE ORIGINAL "HAVE A COKE" EMBLEM IS IN GREAT RESTORED CONDITION.
THE ORIGINAL COIN ENTRY CASTING WAS REPLATED AT CUSTOM CHROME IN GRAFTON, OHIO.... THEY ARE KNOW WORLD WIDE FOR THEIR QUALITY SHOW CHROME.
This machine was fitted with an original Refrigeration unit with new fan motors, all new wiring, and a new thermostat, this machine cools perfectly. This MACHINE WAS DESIGNED TO HOLD A VARIETY OF DIFFERENT SIZE BOTTLES AND FLAVORS. IT WILL HOLD THE NEW 12 OZ. PLASTIC COKE BOTTLES, THE1/2 LITER PEPSI & DIET PEPSI, AND COTTON CLUB PLASTIC BOTTLES....
THE SMALL 6&1/2- 12oz COKE BOTTLES IT WILL ALSO HOLD THE ORIGINAL SPRITE BOTTLES, AS WELL AS THE LONG NECK ORANGE AND GRAPE CRUSH, STEWARTS SODAS, IBC SODAS, WINE COOLERS, LONG NECK BEER BOTTLES ETC, ETC, ETC..... THESE ARE STILL AVAILABLE AT THE GROCERS. ALL NEW INSULATION, GASKETS, DOOR LINER, GLASS, FLORESCENT BALLAST & LIGHT, NEW LEG LEVELERS, WHILE ALL THE ORIGINAL HARDWARE WAS RE-ZINC PLATED THEN CLEARED...... THIS MACHINE IS GEORGIOU'S.....
PLEASE UNDERSTAND THAT THIS MACHINE WAS TRULY RESTORED BY A PROFESSIONAL, NOT AN AMATEUR PRETENDING TO BE A PROFESSIONAL.... SEE MY FEEDBACKS AND REFERENCES!! MOST OF THE VALUE IN THESE MACHINES IS IN THE RESTORATION, IF YOU ARE CONSIDERING A MACHINE, MAKE SURE THE RESTORATION IS DONE RIGHT!!! IF YOU ARE THINKING ABOUT TRYING TO RESTORE ONE OF THESE YOURSELF, YOU MAY BE IN FOR A BIGGER JOB THAN YOU THINK.
A PROFESSIONAL RESTORATION WILL INCREASE THE VALUE OF THE ANTIQUE MACHINE, WHILE AN AMATEUR RESTORATION WILL DECREASE THE VALUE. I do not believe in posting pictures of other machines that I, or someone else, have done in the past, I will let my feedback tell the story. And those that take on more than they can do, end up breaking promises, substituting different machines, or filing bankruptcy, keeping your machine....
I've seen it all happen, and refuse to put myself in that position. FOR THOSE OF YOU WHO ARE HAVING TROUBLE WITH ONE OF MY COMPETITORS............. RATHER THAN SAY, "I TOLD YOU SO" , I WILL INSTEAD SAY "I TRIED TO WARN YOU"...... Kinda like restoring a PINTO instead of a CORVETTE........ KINDA BRINGS TO MIND THAT OLD SAYING ABOUT POLISHING A TERD.....
NO MATTER HOW MUCH POLISH YOU USE, IT'S STILL A TERD. NO SHELL GAME HERE, NO PROMISES THAT CAN'T BE MET, NO LIP SERVICE ABOUT RESTORATION PROCESSES, NO PHOTOS OF MACHINES THAT ARE NOT AVAILABLE... HERE ARE MY MACHINES, RESTORED WITH INTEGRITY, AND QUALITY, USE YOUR OWN JUDGMENT, AND COMMON SENSE SHOULD PREVAIL. PLEASE MAKE SURE TO SEE OUR OTHER AUCTIONS OF VINTAGE COKE AND PEPSI MACHINES. FREE TO ASK ALL QUESTIONS ABOUT MY MACHINES, BEFORE AUCTIONS' END.
ALSO MANY MACHINES ARE BEING LISTED AS. WHEN THEY SIMPLY ARE NOT. IF THE CABINET LINER WAS NOT REMOVED, AND THE CABINET SANDBLASTED, YOU ARE SURE TO HAVE PROBLEMS WITH RUST LATER ON. ALL MY MACHINES ARE TOTALLY DISASSEMBLED AND SANDBLASTED TO REMOVE THE RUST THAT ALWAYS APPEARS BETWEEN THE BOTTOM OF THE CABINET LINER AND THE BOTTOM OF THE CABINET. THEN THE INSIDES ARE REPAIRED, AND UNDERCOATED BEFORE THE INSULATION IS INSTALLED.
I WOULD NEVER CONSIDER "DIPPING" A MACHINE, BECAUSE THE ACID GETS TRAPPED IN THE SEAMS OF THE MACHINE, AND CONTINUES TO EAT AWAY THE METAL. EVEN AFTER THE MACHINE IS PAINTED. I HAVE LISTED SOME REFERENCES BELOW. THIS ORIGINAL VENDO 81A COKE MACHINE HAS ALL ORIGINAL PARTS. ORIGINAL VENDO 81B STAINLESS STEEL BANDING RESTORED ON FRONT.
Carl, I have my Vendo 81B stocked full of sodas and it looks and runs beautifully. The quality of your work is only out done by your professionalism and honesty. In the world today everyone Talks the Talk, but very few truly Walk the Walk - - Carl, you are the rare exception that truly does both, you Talk the Talk and Walk the Walk.
My sincere thanks for providing me with such a beautiful coke machine and valued piece of history and lifestyle for my family and me. Received the machine yesterday and it is just the way you described it with outstanding craftsmanship in the restoration of it. I truly appreciate you taking the time and effort to do such a great job packing it for transport. I will certainly recommend your machines to anyone if they want quality. Dear Carl, Sorry it has taken us so long to get back to you about the coke (81A) machine, work has been very busy. We just wanted to say thanks for such a beautiful machine it's just flawless, the detail and pride in the workmanship is just amazing, all the way down to the way you wrapped it and the moving company delivered it. Look forward to someday getting another machine from you. Thank you so much for your kind words. We received machine and it is PERFECT!
You have been GREAT to work with and so nice. My husband LOVES his machine!!!!!! He has shown it to everyone in the town or who comes by the house.
We have it loaded with drinks and ready to use. Thank you so very much for all your hard work, picture taking, information. Just wanted to let you know that we got the machine last Monday, and it FAR exceeded our expectations. The Coke machine is amazing, I have had so many people come over just to see it and they are just amazed at how well you restored it.
My husband was shocked and amazed at how well ever thing runs, and it brought back some good memories for grandparents. Thank you again, this was well worth the investment, and I know this will definitely be passed down to our kids. I got the machine home (Vendo 81) yesterday without any problem.
We had a neighbor over to see it and they were amazed at your work. They said more than few times that it looks brand new. Needless to say its a great conversation piece. It even makes it more fun to discuss, since you were able to share some time with me at your shop telling me some of the history of the machines and showing me all the very fine details work through to restore a machine. Thanks again for taking PRIDE in you work!
What I got was great! You are to be commended on your professional restoration.
Carl, I picked up the Pepsi machine from Forward Air on Tues. April 16th, bought it home and sat it up for about 10 hours. I plugged it in and it runs and looks perfect! You obviously took quite a bit of time and detail went into this machine. Carl, I finally got the machine today, WOW.... I never thought it would look this nice, I have visited some local dealers in the Dallas area that sell refurbished machines and I think their idea of refurbishing and yours are two different things. The machines I saw here could not hold a candle to yours, they are very cheaply done, and now that I have seen one done the right way, it is easy to tell who spends the time and effort to do an outstanding job and who does just what they have to, to get by, and sell a half aXX done machine. Great job, great machine, I will recommend you to any one looking for a wonderful piece of history.
Thanks, Kyle Lastly - my impression from the outside is that the machine is totally flawless. I looked for 20 minutes - just trying to find a dink. Something, anything - but I came up empty! Kudos on a fine restoration.
It is exactly as you described it MINT SHOW CONDITION. You did an amazing job on restoring every inch of the machine, we are THRILLED.
We highly recommend you to any potential customers and will call you if we or any of our friends have a need for something else. THANKS AGAIN, Debra Carl, the Coke Machine is absolutely beautiful. The nicest one I have ever seen. I'm glad that I waited all those years until the right one came along.
I'm sure it will bring me years of happiness. Thank You Very Much, Christine. HI CARL, THE CAVALIER 72 IS BEAUTIFUL, YOUR RESTORATION WORK UN-BELIEVABLE. Great machine a perfect restoration. Thanks for a great item and arrived in great shape thank you!
Machine arrived in great condition and works. Superior Restoration Job on Coke Machine!!!
Machine arrived as described and so much better... Awesome machine, great packing AAA+++. Coke machine was absolutely fantastic, Carl is the master at restoration. Carl's the REAL DEAL for restored machines.
The best in the business. WHAT A WONDERFUL JOB YOU DID ON RESTORING THE VENDO 81 MAC. BEST MACHINE I HAVE EVER SEEN-LOOKS BETTER THAN NEW. GREAT ITEM, BETTER THAN DESCRIBED, IT DOES NOT GET BETTER, THANKS!!!! FAQ's Q: WHAT IS POWDERCOATING? A: POWDER COATING IS A NEW PROCESS. POWDER COATING IS A PLASTIC MATERIAL THAT ACTS LIKE A CERAMIC, IT GOES ON IN A POWDER FORM, THEN IS BAKED ON, AND MELTS TOGETHER, ONCE COOL, IT HARDENS THUS ENCAPSULATING THE METAL IN A NEW PROTECTIVE COATING THAT WILL NOT RUST OR OXIDIZE LIKE THE OLD GALVANIZING DID. BEWARE MANY "RESTORERS" WILL SIMPLY PAINT OVER THE OLD GALVANIZING WITH HAMMER PAINT, THIS IS A CHEAP, SIMPLE, COVER-UP. I USE A MOVING COMPANY, NOT A TRUCKING COMPANY. MY MACHINES ARE HAND TRUCKED BY A MOVING COMPANY THAT CAN DELIVER TO YOUR DOOR, PROVIDING YOUR STREET IS TRACTOR TRAILER ACCESSIBLE. YOU PAY ME FOR THE MACHINE ONLY! I CAREFULLY WRAP THE MACHINE IN BLANKETS, THEN HEAVY CARDBOARD CORNERS. HELLO, MY NAME IS CARL COATES, AND I DO PROFESSIONAL RESTORATIONS OF ANTIQUE SODA MACHINES.... HERE IS A LIST OF MACHINES I RESTORE, THAT I FEEL ARE WORTHY OF THE RESTORATION EXPENSE THAT IS NECESSARY TO RESTORE AN ANTIQUE SODA MACHINE.
VENDOS: 81, 56, 44, 39. MANY TIMES WE HAVE THESE MODELS ALREADY DONE IN STOCK, AND CAN TAKE YOUR UN-RESTORED MACHINE IN ON TRADE, AND SUPPLY YOU A RESTORED MACHINE BACK WITHIN A WEEK....
OR WE WILL GLADLY RESTORE THE MACHINE YOU SEND US, AND EVEN PROVIDE YOU PHOTOS OF YOUR MACHINE UNDER RESTORATION. WHEN RESTORING THESE MACHINE, I TRY TO DO THEM AS HISTORICALLY CORRECT AS POSSIBLE, WHILE STILL KEEPING COST IN MIND. MANY PEOPLE ARE NOT UNDERSTANDING CORRECTLY THE MANNER IN WHICH THESE MACHINES WERE ORIGINALLY PRODUCED.
I TRY TO KEEP THE HISTORICAL INTEGRITY OF THE MACHINES I RESTORE, RECOGNIZING THEIR HISTORICAL VALUE. HERE IS A LIST OF MATERIALS THAT I UTILIZE WHEN DOING A PROFESSIONAL RESTORATION. EVERY MACHINE IS COMPLETELY DISASSEMBLED DOWN TO THE BARE CABINET.
EVERY MACHINE IS SANDBLASTED DOWN TO THE BARE METAL. EVERY MACHINE IS PROFESSIONALLY REPAIRED AND PAINTED AT A PROFESSIONAL BODY SHOP. EVERY MACHINE IS UNDERCOATED INSIDE BEFORE NEW INSULATION IS INSTALLED. ALL ORIGINAL ZINC PLATING IS RE-ZINCED AND THEN CLEAR COATED SO IT WILL NOT TARNISH.
ALL ORIGINAL CHROME IS RE-CHROMED. ALL ORIGINAL STAINLESS STEEL TRIM IS RESTORED HAVING ALL THE DENTS PROFESSIONALLY REMOVED, AND POLISHED TO A CHROME LIKE FINISH. WE DO NOT USE NEW REPRODUCTION METAL TRIM PIECES WITH AN INCORRECT PROFILE, WE DO IT THE HISTORICALLY CORRECT PROFESSIONAL WAY, BY RESTORING THE ORIGINAL STAINLESS STEEL TRIM. THE ORIGINAL MACHINES WERE PAINTED WITH DUPONT ENAMEL!
BASE-COAT / CLEAR COAT PAINT DID NOT EVEN EXIST IN THE 1950'S, IT IS NOT HISTORICALLY CORRECT TO USE THIS TYPE OF PAINT, IT IS NOT BETTER, AND IS A NIGHTMARE TO TOUCH-UP, REQUIRING BOTH THE BASE COAT AND CLEAR COAT , WHERE ENAMEL IS SINGLE STAGE, AND CAN BE TOUCHED UP AND BUFFED OUT VERY EASILY. THE HISTORICALLY CORRECT PAINT TO USE IS SINGLE STAGE ENAMEL, NOT BASECOAT / CLEARCOAT WHICH HAS A PLASTIC LIKE LOOK TO IT...... I ALSO USE WATER RELEASE DECALS ON TOP OF THE ENAMEL PAINT, THE SAME WAY THEY DID BACK IN THE 1950'S. MANY MACHINES WERE DRESSED UP WITH THE BOTTLE AND HAND DECAL OR THE SPRITE BOY DECAL.... THESE WERE ORIGINALLY WATER RELEASE DECALS, AND WERE APPLIED THE SAME WAY I DO NOW, THE HISTORICALLY CORRECT WAY. IT IS NOT HISTORICALLY CORRECT TO CLEAR COAT OVER WATER RELEASE DECALS, NOR IS IT HISTORICALLY CORRECT TO CLEAR COAT OVER SILK SCREENING. SILK-SCREENING WAS DONE IN CERTAIN APPLICATIONS ON TOP OF ENAMEL PAINT, AND WAS AS PRONE TO SCRATCHING AS THE PAINT ITSELF OR THE WATER RELEASE DECALS..... BEWARE SOME OF THE LESS HONEST RESTORERS WILL ALSO ADVERTISE THAT THEY ARE SILK SCREENING, WHEN IF FACT THEY ARE SIMPLY USING VINYL LETTERING AND WATER RELEASE DECALS UNDER THE CLEAR COAT STAGE OF THEIR INCORRECT BASE/CLEAR PAINT.
WE DO NOT OVER RESTORE OUR MACHINES, CHROME PLATING THINGS THAT WERE NEVER CHROME PLATED, AND SHOULD NOT BE CHROME PLATED..... IT IS HISTORICALLY INCORRECT TO CHROME HINGES, HANDLES, COIN MECHS, BACKING PLATES ETC..... THESE WERE NEVER CHROME PLATED FROM THE FACTORY, AND ONLY RESULT IN A HOT RODDED, GAUDY, UNPROFESSIONAL JOB.... SIMPLY REMOVE YOUR CAR'S PAINTED GAS CAP COVER PLATE, HAVE IT CHROME PLATED, AND PUT IT BACK ON THE CAR TO SEE HOW STUPID IT LOOKS..... I GET THE SAME FEELING WHEN I SEE PARTS OF A COKE MACHINE CHROMED THAT SHOULD NOT BE.
ALL OF THE INTERNAL CABINET LINERS, BOTTLE STACK ASSEMBLIES, BOTTLE DRUMS, BOTTLE LOADING SHELVES ETC. ARE POWDERCOATED WITH A CHROME LIKE COLOR.... MANY OF THE INTERNAL PARTS OF A COKE MACHINE WERE ORIGINALLY GALVANIZED..... OLD GALVANIZING ACTUALLY OXIDIZES RESULTING IN THE WHITE POWDER LIKE SUBSTANCE YOU WILL FIND IF YOU RUN YOUR HAND OVER AN OLD PIECE OF GALVANIZED STEEL, LIKE A VENDO 81 BOTTLE LOADING SHELF.
THIS IS ACTUALLY HOW GALVANIZING RUSTS, ONCE THE OLD GALVANIZING OXIDIZED, THE ORIGINAL METAL WOULD BE EXPOSED, AND ACTUALLY WOULD START RUSTING..... WE HAVE ALL OUR PARTS PROFESSIONALLY POWDERCOATED, WHEN THEY DO SO THEY FIRST SAND BLAST ALL THE ORIGINALLY GALVANIZED PARTS DOWN TO THE BARE METAL, BEFORE THE NEW POWDERCOATING IS APPLIED. ALTHOUGH IT IS NOT HISTORICALLY CORRECT TO APPLY THIS POWDERCOATING, I FEEL IT IS THE VERY BEST PROTECTION THE INTERNAL COMPONENTS CAN RECEIVE. POWDER COATING IS A NEW PROCESS. WE ALSO PAY CLOSE ATTENTION TO THE ACTUAL ORIGINAL LETTERING THAT WAS ORIGINALLY FOUND ON THE VINTAGE MACHINES AS THEY WERE WHEN THEY LEFT THE FACTORY.
COCA-COLA WAS VERY TRICKY WHEN THEY DESIGNED THE LETTERING FOR THEIR MACHINES, THEY MIXED UP FONTS, (LETTERING STYLES), AND ELONGATED LETTERS. DIFFERENT MODELS HAD DIFFERENT LOGOS THAT WERE CORRECT FOR THAT MODEL.
NOTHING COULD BE WORSE THAN HAVING INCORRECT LETTERING AND WRONG PLACEMENT OF WORDING SILK SCREENED UNDER CLEAR COAT ON YOUR MACHINE...... THE ONLY REMEDY WOULD BE TO REBLAST THE MACHINE AND START OVER.
IF YOU WONDER IF YOUR MACHINE HAS THE CORRECT STYLE LETTERING, PLEASE FEEL FREE TO REFERENCE MY AUCTIONS OF ALL THE DIFFERENT MODELS, THEY ARE ALL DONE CORRECTLY! WE ALSO APPLY MANY OF THE DECALS ORIGINALLY USED THAT OTHER RESTORERS "FORGET" TO APPLY LIKE THE SLUG REJECTER DECALS, THE BOTTLE LOADING DECALS, THE WIRING DIAGRAM DECAL, THE PATENT DECAL ETC.
DON'T GET TRICKED INTO BELIEVING THAT DECALS WERE NOT USED ON THESE VINTAGE MACHINES.... OUR MACHINES HAVE HAND PAINTED EMBOSSMENT LETTERS THAT NEVER HAVE ANY BRUSH MARKS, BECAUSE I HIRE A PROFESSIONAL SIGN PAINTER, AND ARTIST, WHO USES THE CORRECT SLOW DRYING PROFESSIONAL SIGN PAINTER'S ENAMEL. ANY INSINUATION THAT THIS PAINT WILL FADE IN THE SUN IS ABSURD.... YOU WILL ALSO NOTICE THAT MY SIGN PAINTER STAYS ON TOP OF THE LETTERS LIKE THE ORIGINAL LETTERS WERE DONE ON THE PRESS AT THE FACTORY.... THEY WERE NEVER SILK SCREENED OVER THE EDGES LIKE THE OTHER GUY DOES.
Silk Screening leaves fuzzy edges on the lettering instead of crisp clear letters. Reproduction parts will always be available, but where would you ever find the original parts again? NOW, DON'T GET ME WRONG BECAUSE I DON'T WANT TO BE MIS-UNDERSTOOD....
REPRODUCTION PARTS DO PLAY A VERY VALUABLE AND NECESSARY ROLE IN THE RESTORATION OF ANTIQUE COKE MACHINES... I ALWAYS USE NEW PLASTIC DOOR LINERS, NEW GASKETS, NEW FAN MOTORS, NEW THERMOSTATS, NEW DECALS, NEW BREAKER STRIPS, NEW SOLENOIDS, NEW MICRO SWITCHES ETC.
Kinda like restoring a PINTO instead of a CORVETTE. DON'T GET TRICKED INTO BELIEVING THAT OVER RESTORING MAKES A VINTAGE ANTIQUE MACHINE MORE VALUABLE, CHROMING THINGS THAT SHOULD NOT BE CHROMED IS NOT CORRECT, AND DOES NOT ADD VALUE, IT ACTUALLY TAKES AWAY.... ASK ANY ANTIQUE CAR RESTORER WHO CONCERNS HIMSELF WITH RESTORING WITH INTEGRITY INSTEAD OF FLASH. DON'T GET TRICKED INTO BELIEVING THAT REMOVING ALL THE ORIGINAL PARTS, AND REPLACING THEM WITH REPRODUCTION PARTS IS CORRECT, IT IS NOT.... EVERY REPRODUCTION PART ON THAT MACHINE TAKES AWAY FROM IT'S HISTORICAL VALUE.
FOR THOSE OF YOU WHO ARE HAVING TROUBLE WITH ONE OF MY COMPETITORS, RATHER THAN SAY, "I TOLD YOU SO" , I WILL INSTEAD SAY "I TRIED TO WARN YOU"...... WHAT WE DO IS A PROFESSIONAL RESTORATION AT AN AFFORDABLE PRICE, WHILE PAYING ATTENTION TO THE HISTORICAL INTEGRITY AND ANTIQUE CORRECTNESS. BUYERS BEWARE, AS ECONOMIC TIMES GET TOUGH, MORE CON ARTIST ARE ACTIVE.
LOOK FOR THEIR FEEDBACK, ASK FOR REFERENCES.... MINE ARE POSTED FOR ALL TO SEE. MOST OF THE VALUE IN A RESTORED COKE MACHINE IS IN THE RESTORATION. A PROFESSIONAL RESTORATION WILL INCREASE THE VALUE OF THE ANTIQUE MACHINE, AND AMATEUR RESTORATION WILL HURT THE VALUE OF THE ORIGINAL MACHINE. IF YOU ARE CONSIDERING PURCHASING A MACHINE FROM SOMEONE ELSE, AND THEY ARE USING MINE TO COMPARE THEIRS TO, ASK THESE IMPORTANT QUESTIONS.
NOTE: ALL THESE FACTORS HAVE A PLACE IN DETERMINING THE VALUE OF A RESTORED COKE MACHINE! WAS THE MACHINE STRIPPED ALL THE WAY DOWN TO THE BARE CABINET, AND SANDBLASTED TO REMOVE THE EXTERNAL AND INTERNAL RUST?
Many amateur refurbishes will not take the machine apart, leave the original insulation, and internal rust intact, and do a quick scuff and shoot paint job, then mis-represent the machine as restored... ARE THE INTERNAL PARTS THAT WERE ORIGINALLY GALVANIZED NOW POWDERCOATED OR SIMPLY PAINTED? Painting internal parts that were originally galvanized is a cheap, incorrect substitute for powdercoating that will not hold up inside a refrigerated cabinet....
Don't allow the amateur to tell you different! HAS THE ORIGINAL ZINC PLATING BEEN RE-ZINC PLATED OR WERE THOSE PARTS ONLY PAINTED?
A lot of parts inside the coin door original came zinc plated from the factory.... I always have these parts re-zinc plated, then I clear coat the so they won't tarnish.
WAS THE CHROME PLATING DONE AS SHOW CHROME OR WAS A CHEAP CHROME PLATTER USED WHO DOES UTILITY PLATING? People don't realize that there are different degrees of chrome plating..... My chrome is done by the best in the country.. Custom Chrome in Grafton Ohio. They are famous for their quality show chrome.....
WAS THE CORRECT ORIGINAL REFRIGERATION UNIT RESTORED, OR IS THERE SOME TYPE OR REPLACEMENT UNIT IN PLACE? Many restorers simply replace the original refrigeration unit, with a new reproduction unit..... It is my position that maintaining the original refrigeration unit retains the antique integrity of your vintage machine, the same way keeping the original motor in your classic Corvette would. WAS THE INTERNAL RUST IN THE CABINET REPAIRED PROFESSIONALLY AND THE CABINET UNDERCOATED INTERNALLY BEFORE NEW INSULATION WAS INSTALLED? Not doing this simple step could lead to future issues.....
Instead of seeing how much you can get away with, I go the extra mile, and have established practices that ensure your machine will stay restored... IS THE PAINT JOB DONE BY A PROFESSIONAL PAINTER OR BY AN AMATEUR many amateur restorers will try to paint these machines themselves in their garage instead of paying the professional paint shop to do the job correctly! WERE THE CORRECT ORIGINAL GRAPHICS RE-APPLIED ON THE MACHINE, OR INCORRECT GRAPHICS DONE FROM INCORRECT MEMORY? Many amateur restorers will put an incorrect graphics in the wrong spot because they don't have enough integrity in their work to even look at an original to see the correct graphics and placement.....
WAS THE VENDING ASSEMBLY DISASSEMBLED AND RESTORED PROFESSIONALLY? Many amateurs will simply paint the inner cabinet and vending mechanism with a can of Hammer-tone spray paint.... This is a true sign of an amateur who is out to make a quick buck instead of doing the job correctly! DOES THE MACHINE VEND CORRECTLY?
DOES THE MACHINE COOL CORRECTLY? WAS ALL THE OLD ORIGINAL WIRING REPLACED? DOES THE MACHINE HAVE ALL NEW LEG LEVELERS THAT TURN FREELY?
WAS THE OLD ROTTEN DRAIN TUBE REPLACED? WAS THE ORIGINAL INNER CABINET LINER PROFESSIONAL REPAIRED OR IS THE BOTTOM OF THE LINER RUSTED AND COVERED WITH HAMMER PAINT TO HIDE THE RUST? WAS THE ORIGINAL STAINLESS BANDING RESTORED, OR NEW PLASTIC CHROME CAR MOLDINGS APPLIED? WAS THE ORIGINAL COIN MECH RESTORED? I HAVE ALSO BEEN ASKED ABOUT A T.
PROGRAM AIRED ON THE HISTORY CHANNEL CALLED "PAWN STARS" IN WHICH A SEGMENT WAS DONE ON RESTORING A VINTAGE COKE MACHINE........ THE MACHINE THAT WAS WHEELED INTO THE PAWN SHOP WAS A VENDO 39 AND THE ONE PRESENTED AS RESTORED WAS A CAVALIER 72......... THERE IS NO AMOUNT OF RESTORATION THAT CAN CHANGE ONE MAKE AND MODEL INTO ANOTHER MAKE AND MODEL...... KINDA LIKE TAKING A FORD GALAXY INTO THE CAR RESTORATION SHOP, AND COMING OUT WITH A CHEVY CORVETTE....
THE PRODUCERS OF THE SHOW PULLED A HOAX ON THE PUBLIC......... WHAT HAPPENED IN VEGAS, SHOULD HAVE STAYED IN VEGAS, AND NOT BEEN BROADCAST ON T.
THEY ALSO HIDE INFORMATION THEY DON'T WANT TO DISCLOSE. I DO NOT SELL PARTS or decals. The item "TWO Coca Cola Coke Machine Cavalier 72 BEST IN USA! Pro Restoration VENDO 81" is in sale since Sunday, March 29, 2015.
This item is in the category "Collectibles\Banks, Registers & Vending\Vending Machines\Soda". The seller is "sleepwalk" and is located in Elyria, Ohio.
This item can be shipped to United States.
Product Type: Soda Machine

---